Evaluating the progress of school students holds equal significance to delivering high-quality education. Australia has garnered a reputation for its exceptional education system and comprehensive student curriculum. NAPLAN, the standardised assessment serves as a valuable tool for evaluating students' skills in essential areas of literacy and numeracy. While NAPLAN can seem daunting, the right preparation strategies can make a significant difference in your performance.
In this guide, we will explore effective ways for students to prepare for NAPLAN 2024: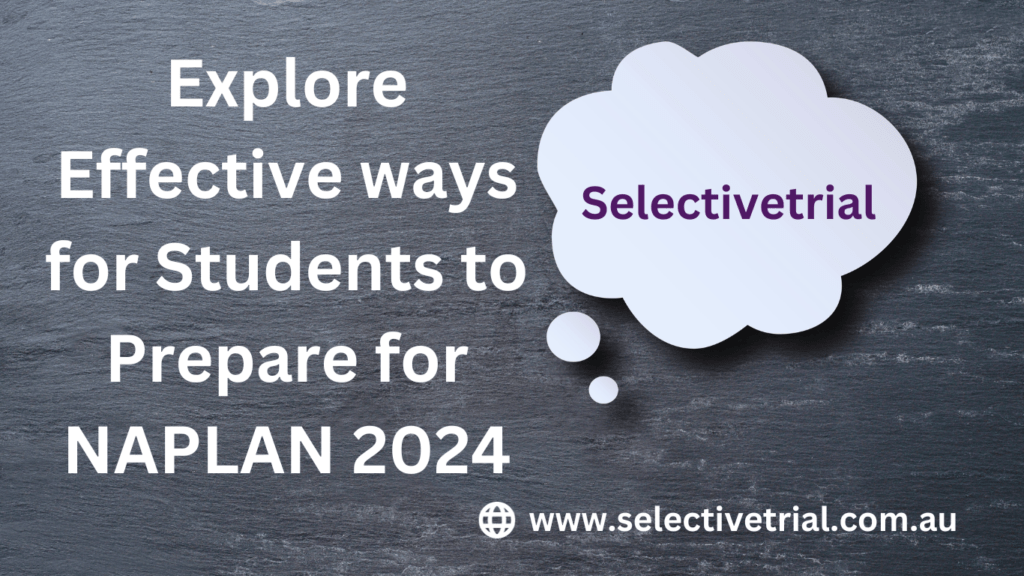 1. Understanding the Format and Content of NAPLAN
Before you start preparing, you have to familiarise yourself with the content and format of NAPLAN. There are four main domains in NAPLAN- Reading, Writing, Numeracy, and Language Conventions. Every domain assesses certain abilities and skills. Make sure that you review the past papers to get a clear understanding of what to expect. The past papers will help in identifying your strength and the areas, which might need added attention.
2. Develop Good Study Habits for NAPLAN 2024
You should have effective study habits. Here is what you should do-
  Create a Study Schedule- Create a timetable and allocate enough time for each domain. Balance out your study sessions with breaks for maintaining focus and preventing burnout.

 

Use Resources- Make use of NAPLAN-specific study guides, practice books, and online resources. These materials are designed to align with the assessment's content and provide targeted practice.
  Practise Regularly- Practice is the key. Solve different questions to improve your skills and build confidence. Increase the difficulty level gradually to challenge yourself.
3. Improve Your Literacy Skills for NAPLAN 2024
You should work on your literacy skills. This is what you have to do for that-
  Read Comprehensions- Read a diverse range of texts, including newspapers, novels, and articles. Practice summarising key points and identifying main ideas, supporting details, and the author's purpose.

 

Writing Skills- Focus on the structure, vocabulary, coherence, and grammar of the essay. Practise various kinds of writing, such as narratives, persuasive, informative pieces, and narratives.
  Language Conventions- Check the grammar rules, spelling, and punctuation. Make sure that you proofread your writing for identifying and correcting errors.
4. Strengthening Your Numeracy Skills for NAPLAN 2024
You should work on strengthening your numeracy skills. To prepare yourself for the test, this is what you have to do.
  Mathematical Concepts- Review the basic mathematical concepts, such as decimals, fractions, basic algebra, and percentages. Learn about the methods and formulas needed to solve different types of problems.
  Problem-Solving- Practice solving different mathematical problems, which range from simple calculations to more complex ones. Concentrating on understanding the problem, breaking down the problem, and applying the right strategies.
5. Formulating Strategies and Preparing Yourself Mentally
To strategize and prepare yourself mentally, you will have to do the following.
  Time Management- You should learn how you can manage your time effectively at the time of the test. Allocate time to each section making sure you have sufficient to review your answers.

 

Guessing and Eliminating- In case you are not sure about your answer, use the process of elimination for narrowing down your choices. It is important to make educated guesses depending on your knowledge.
  Stay Calm- Practice relaxing to manage test anxiety. Positive visualisation and deep breathing can help you stay calm and focused at the time of assessment.
Bottom Line
Preparing for NAPLAN 2024 requires dedication, consistent effort, and strategic planning. By understanding the assessment's format, focusing on key domains, and adopting effective study habits, you can approach NAPLAN with confidence and maximise your performance. Remember, preparation is not just about memorization, but about developing a deep understanding of the concepts and skills being assessed. With the right attitude and meticulous preparation, you can be appropriately empowered to achieve great heights in NAPLAN 2024.