Year 5 is a crucial time in a student's academic journey. The National Assessment Program – Literacy and Numeracy (NAPLAN) is an important part of this journey for Australian students. It is a standardised test that assesses a student's proficiency in essential subjects like reading, writing, language conventions, and numeracy. To prepare effectively for this exam, students can greatly benefit from NAPLAN practice tests Year 5.
In this blog, we are going to take a look at the different advantages of practice tests for Year 5 students and how they can improve your performance:
Benefits of NAPLAN Practice Tests Year 5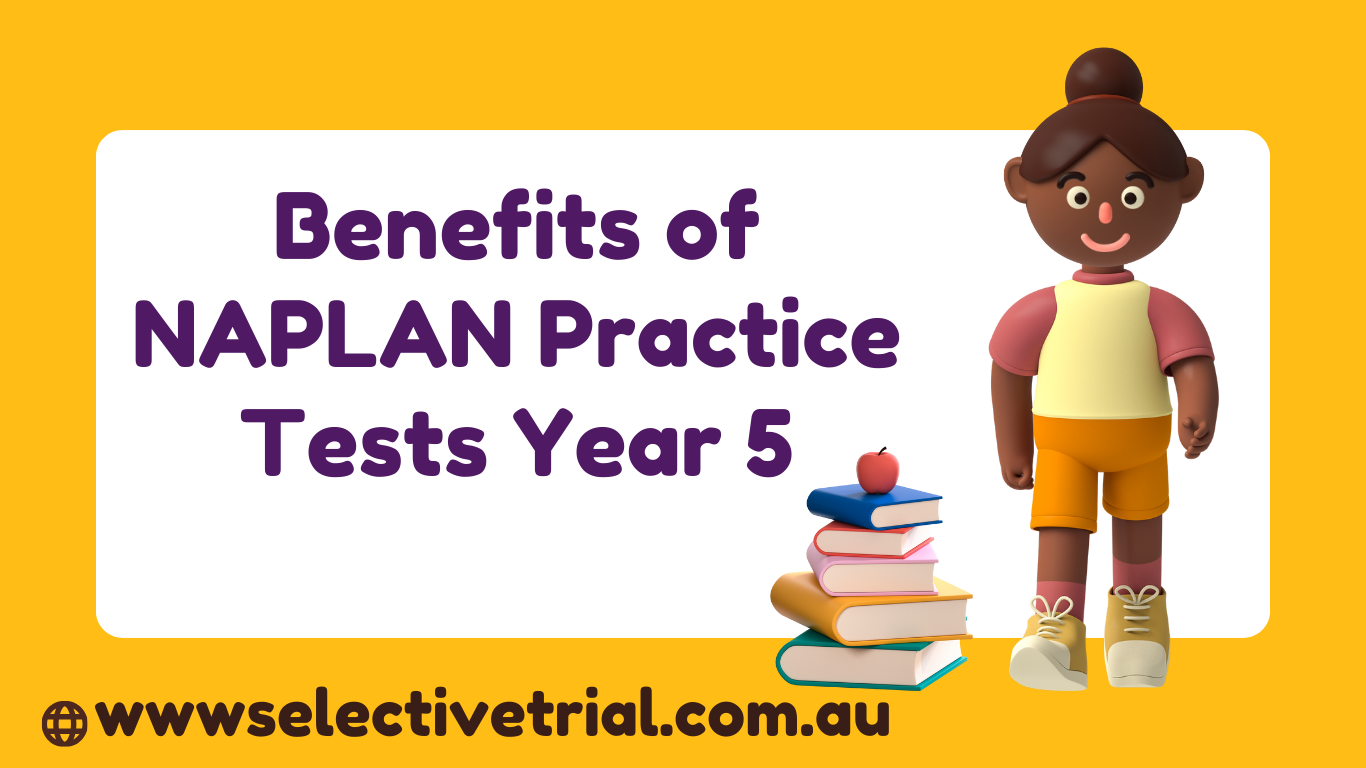 1. Get an Idea About What to Expect on the Day of the Exam
Practice tests are similar to the real exam. Solving NAPLAN practice tests Year 5 will give you an idea about the type of questions, which can be expected on the day of the exam.
The practice tests will familiarise yourself with the kind of pattern, syllabus, and difficulty level of the real exam. It is essential to attempt practice tests, which are at par with the exam.
2. Analyse Your Performance and Preparation
Practice tests give you a reality check on how efficacious your preparation is. It will help you remember the concept and not completely forget things you have mastered and learned. It will help you keep revising the syllabus once more after you solve the practice test papers.
3. Targeted Skills Improvement
NAPLAN practice tests Year 5 are designed to cover specific areas of literacy and numeracy. This focused approach allows students to identify their weaknesses and work on them. Whether it's improving spelling, grammar, comprehension, or numeracy skills, practice tests can pinpoint where students need to concentrate their efforts.
4. Improves Time Management Skills
The NAPLAN test is time-limited, which can be challenging for some students. Practice tests enable students to hone their time management skills. They learn to allocate the right amount of time to each section and question, reducing the chances of rushing through the exam and completing it on time. It will also ensure that you have enough time to think about a particular question.
5. Try Out Different Strategies
Plan out and implement various strategies in every one of your practice tests and implement the best one at the time of the actual exam. It will give you an opportunity to try out and strategize well for the actual exam day.
6. Improves Confidence
Regular practice builds confidence. When students see their progress in practice tests, it boosts their self-esteem and encourages them to put in more effort. This sense of accomplishment is crucial for tackling the NAPLAN exam with a positive mindset.
7. Identify the Areas You Fall Short
Once you have solved the NAPLAN practice tests Year 5 you will know the section that is your strength and weakness. It will help you identify the topics that are difficult and easier. When you have an idea about this, you will know the topics you should focus on. Practice tests can reveal specific areas where students may need extra help. This enables teachers, parents, and students themselves to address these weaknesses in a targeted manner, thus facilitating more efficient and effective learning.
8. Reduces Exam Anxiety
Exam anxiety can negatively impact a student's performance. Through practice tests, students become more accustomed to the NAPLAN test format, which reduces the anxiety associated with the unknown. This allows students to think more clearly and perform to the best of their abilities.
NAPLAN Practice Tests Year 5 Enhances Long-Term Learning
NAPLAN practice tests are not just about short-term success; they instill valuable skills and knowledge that are beneficial for the future. The skills acquired during preparation can extend beyond the exam and have a positive impact on a student's overall educational journey.
To know more visit – Selective Trial.