The selective school test presents a considerable level of difficulty, underscoring the importance of a comprehensive selective school program in achieving success. It has a success rate of just 30%. So, even the most naturally gifted students take time to prepare. Many students start preparing for the Selective Test early on. Thus, the test is only becoming more competitive.
Reasons to Choose Selective School Tutoring
Selective Test tutoring programs have been designed to familiarise each student with the content and format of the exam. This enables them to attend to even the most challenging questions and walk into the exam hall with confidence.
Here are a few reasons why you should take Selective School Test Tutoring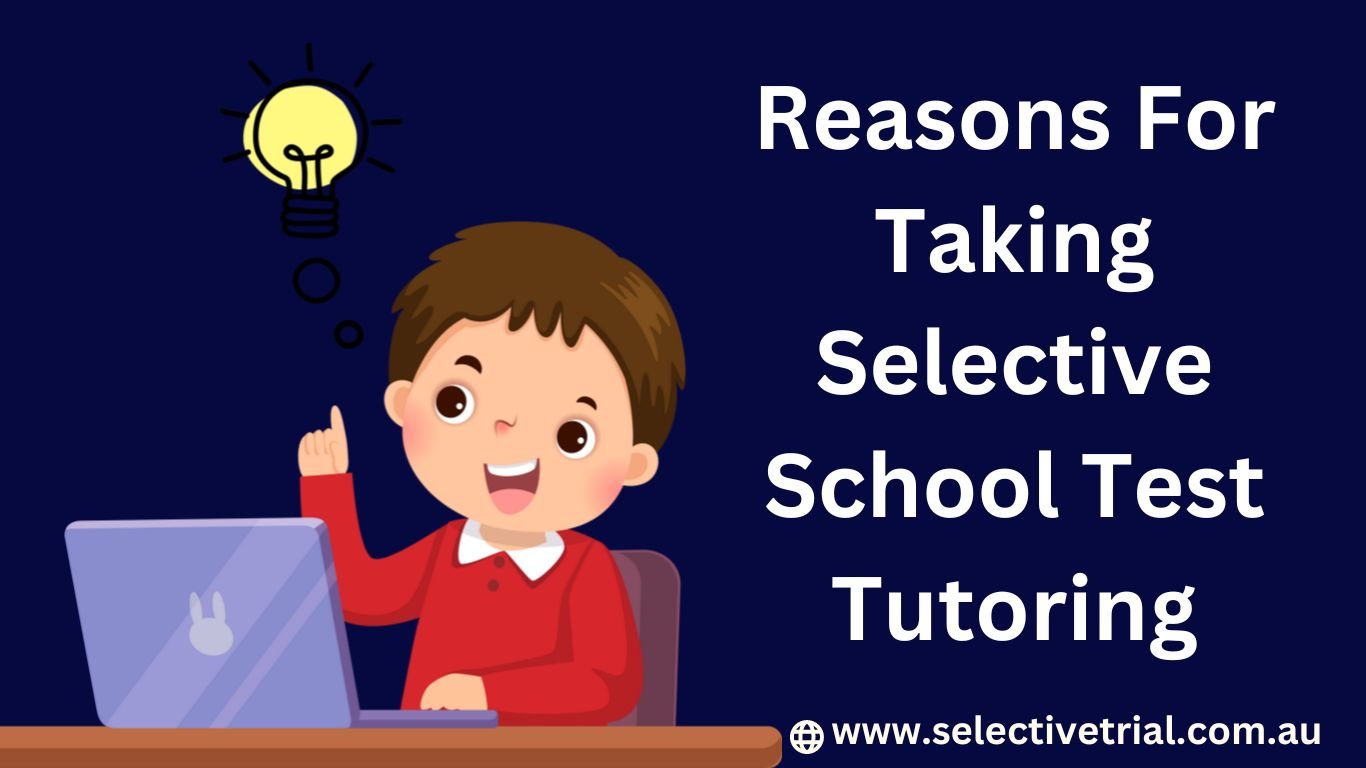 1. Individual Learning Experience
Upon enrolling in the tutoring program, students can anticipate a tailored and individualised learning experience. Tutors within the program are dedicated to customising activities and lessons to suit the specific needs and learning styles of each student.
2. Personalised Attention
Tutors within the program prioritise understanding the unique learning style of each student, enabling them to adapt and customise teaching methods accordingly. By taking the time to familiarise themselves with the student's preferred learning approach, tutors can effectively tailor their instructional strategies to optimise the student's understanding and progress.
3. Improves Academic Performance
Tutoring plays a crucial role in assisting students with exam preparation. Tutors collaborate closely with students to target specific areas of improvement, providing focused instruction and guidance. Through this individualised approach, tutoring helps enhance students' understanding and performance in subjects where they may be facing challenges or weaknesses. As a result, students can experience improvements in their comprehension and overall grade.
4. Improves Confidence and Self-Esteem
Tutoring has a profound impact on a student's confidence and self-esteem by equipping them with the essential skills and resources needed to excel in their academic pursuits. Through targeted instruction and support, tutors empower students to overcome challenges and develop a strong academic foundation.
5. Improves Study Habits
Tutoring offers students the opportunity to acquire effective study habits that enhance their preparation for the Selective Test. These essential skills not only facilitate success in the test itself but also equip students with the tools needed to achieve their academic goals.
6. The Learning Process Takes Place in a Stress-Free Environment
Given the varying capabilities of students to cope with the syllabus, many may experience pressure to keep up with the demands of their studies. In such circumstances, one of the key advantages of Selective Test tutoring lies in its emphasis on addressing individual needs. This tailored approach fosters a supportive and conducive learning environment, allowing students to progress at their own pace without experiencing undue anxiety or overwhelm.
7. Helps in Overcoming Learning Obstacles
The teachers at SelectiveTrial coaching prioritise addressing any specific areas of learning in which students may be facing difficulties. Whether it pertains to reading, writing, mathematics, or general ability, the teachers focus on targeting and addressing these challenges directly. Through personalised instruction and targeted interventions, they strive to enhance students' skills and understanding in these specific areas.
SelectiveTrial Selective School Test Tutoring
The tutors at SelectiveTrial possess the esteemed Selective School accreditation, which signifies their comprehensive understanding of the exam's requirements and expectations. With this specialised accreditation, the tutors harness their experience and expertise to deliver the highest level of instruction. Their dedication is directed towards providing students with the necessary resources and unwavering support they need to excel. The program at SelectiveTrial is specifically designed to familiarise students with the question format and types of the exam. By thoroughly understanding the patterns and trends observed in the question paper, students gain valuable insights that enable them to anticipate and respond to the questions more effectively.