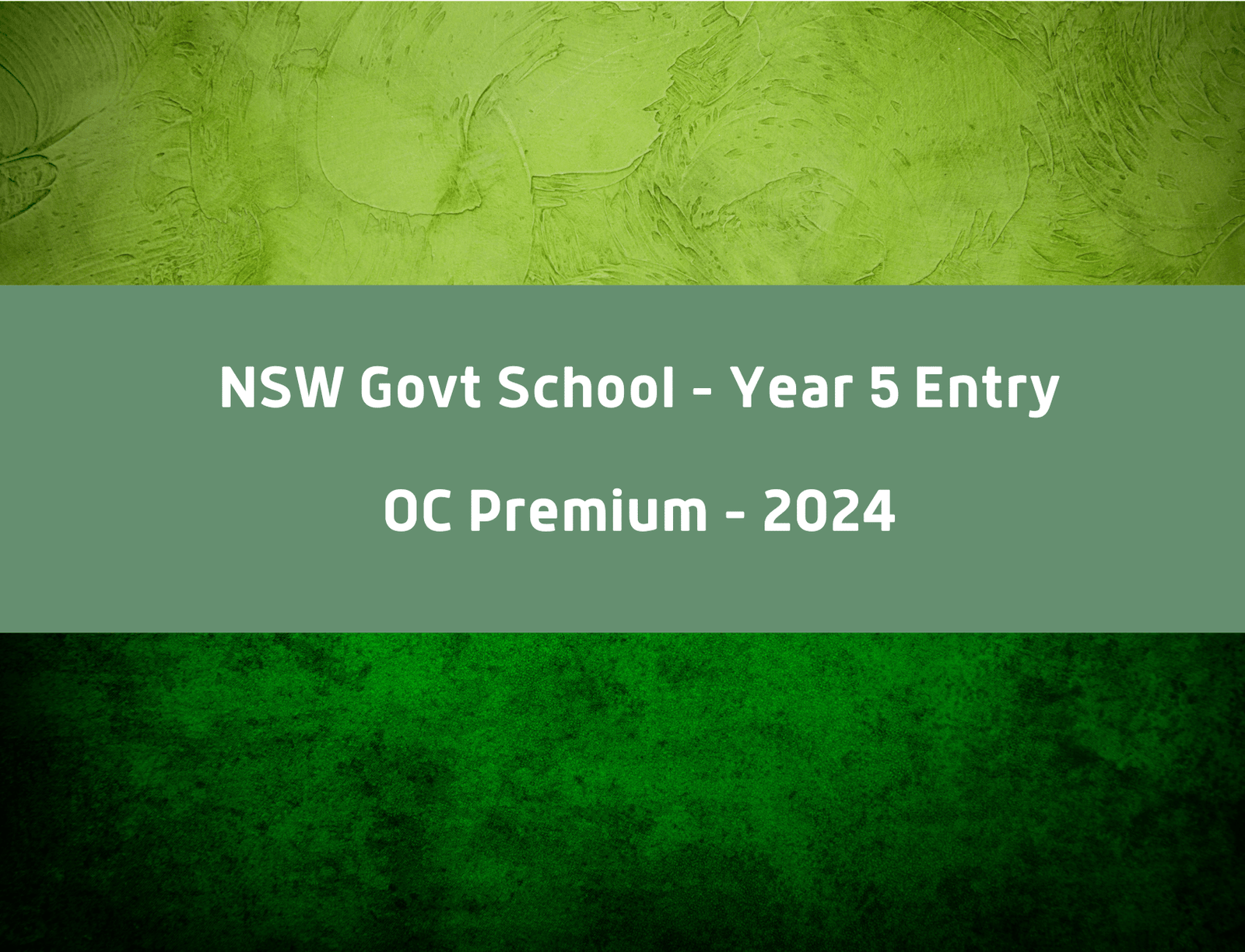 CATEGORY: OC Subscription
OC – Premium
Course Access: 365 days access
Course Overview
18 full sets of New OC Thinking Skills Question Papers – Time Scored. 
19 full sets of New OC Mathematical Reasoning Question Papers – Time Scored.
19  full sets of New OC Reading Question Papers – Time Scored.

Thinking Skills each set has 30 questions, and the student needs to complete them within 30 minutes.
Mathematical Reasoning each set has 35 questions, and the student needs to complete them within 40 minutes.
Reading each set has 25 questions, and the student needs to complete them within 30 minutes.
4 hrs One to One personalised online Tutoring with our experienced Selective passed out tutors for 4 weeks
All Online tutoring will be assigned separately after buying the subscription. Selectivetrial will directly assign lessons with experienced tutors.
Access to review all questions with solution and Random Practice Test
Notes- All practice questions are followed as per Cambridge Assessment Testing
 Full Set of New Format Papers:
The full set of question papers includes all types of questions similar to the real-time exam questions. Selective Trials follows the same current format of new OC formats. Our highly qualified group of subject experts of High scoring ATAR tutors, and selective school passed out tutors who passionately did their level best to create the many papers here at Selective Trials. All tests are time managed, and each student will get the same feeling like the real Australian tests. After finishing each test, the student can go back to review and revise all questions with feedback and thorough explanations. Students can investigate the work solutions for all the questions in detail where steps are maintained on how to solve the question and the quicker reasoning behind it.
 Practice Question Papers:
We recommend every student start with revision questions first, then slowly go to Time scored Question BANK.
As per NSW and Australian Curriculum, we published our question BANK for OC as per the new style and format.
Our revision question BANK has covered all the chapters and maintained them accordingly. If your child does wrong on any particular question, you can practice similar questions again.
 Online One to One Personalised Tutoring:
We are ecstatic to announce that, along with the trial question, we are providing one to one personalised tutoring where we will mainly clear the concept where students struggle on a topic in the test. This online classroom is fully equipped with an advanced whiteboard, audio-video and screen sharing capabilities.
 Review:
Without feedback, it is impossible to get the same question right without any help. Feedback is crucial when building up your child's stamina in getting the same type of question right the next time. Also, find out the reason why your child got the question wrong in the first place; and fixing them to grant them entry into their dream school, and the final result from the Exam will be a function of your child's capabilities. Parents will be able to view the student's performance relative to their peers and see the performance per question type and topic.



Practice to succeed…