Many parents and students have a common myth about OC tests and selective high school placement tests.
They believe that a high rank in the OC test means an equal performance in the upcoming selective test, which is proven wrong.
They also think that the students who have got good marks in the OC test won't need further or additional preparation for the selective test.
However, in reality, it doesn't work as they believe. Though there is a correlation between these two tests, there are huge differences as well. 
If you are a concerned parent who wants to understand the differences and how your child needs to prepare for these two tests, this post will surely help you.
We explain the five differences between the OC test and Selective High School Placement Test for your better understanding.
The topics these tests include, the exam structure, and the goal behind these exams differ significantly. So, without any further ado, let's move straight to the differences.
#1 Exam Topics
Most of us already know that OC test exams include 3 topics, whereas selective test exams include 4 topics. Here are the topics mentioned:
OC Test: Reading Comprehension, Mathematical Reasoning, and Thinking Skills 
Selective Test: Reading Comprehension, Mathematical Reasoning, Thinking Skills, and Writing
#2 Writing Section
The main difference between the topics of these exams is that the selective test includes a writing section, which often involves abstract concepts.
This section gets difficult for many students who do not work on their writing skills. Hence, to do well, students should be able to express their creative ideas through writing for a purpose and audience.
#3 Reading Comprehension
Selective Test also includes a section named Reading Comprehension, which seems difficult for most students. As the structure of the selective test is getting more complex every year, good preparation, particularly for this section, is quite essential. 
Since the review in 2018, it has focused on literature more than complex Mathematics and other areas. It includes different genres such as non-fiction, fiction, poetry, magazine articles and reports So, your child has to gain a good knowledge of literature and similar areas.
#4 Thinking Skills
Though both the tests include a thinking skills section to analyze a student's critical, problem solving, and creative capabilities, the structure of the sections vary. 
OC test's thinking skills section is 30 minutes long and it has more than half the questions on logical reasoning and other questions on mathematical deduction and spatial reasoning.
The selective test's thinking skills section consists of 40 questions and the time limit is 40 minutes.
#5 Exam Structure
The structure of the selective test is not the same as the structure of the OC test, which has two 30-minute sections. The selective test is much more complex as it has four sections.
Three of these sections are of 40 minutes, and the last fourth one is 20 minutes long. For many students, this lengthy structure seems more taxing than the OC tests. 
Hence, to perform well, your child should be more proficient in time management.
Though the above 5 differences between OC and selective tests are the main ones, there are many others. The schooling years of these two tests are not the same.
OC test is taken when the students are in grade 4, which determines which school the students are going to attend in grade 5.
On the other hand, the selective test is taken when the students are in 6th grade, which mainly determines which High School the students will attend during the entire period of school education.
Though securing a position in an OC class can help the students to get into a selective school, they need to take further preparation in order to do well in their selective tests. Hence, online mock tests can be of much help to make them fully prepare.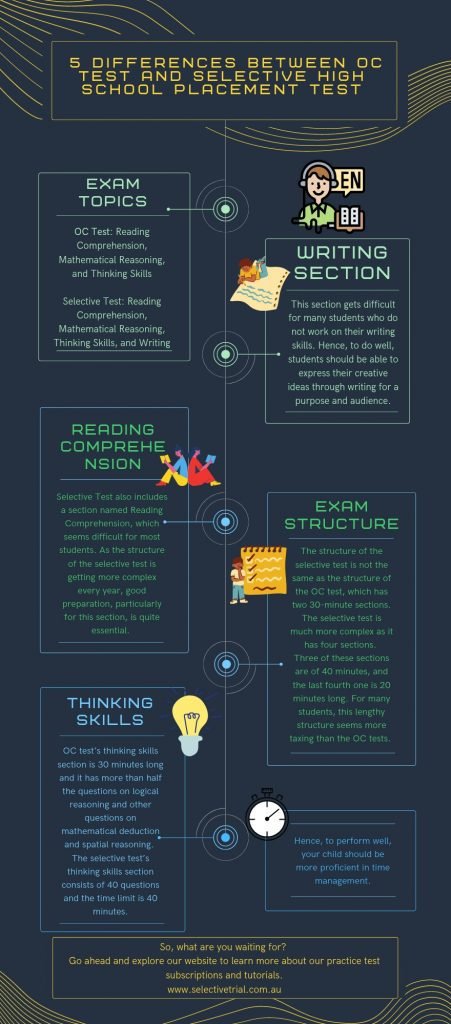 If you are searching for an online selective test coaching institute for learning and mock tests, look no further. 
We at SelectiveTrial have a group of academicians who are highly skilled and experienced in providing support to the OC, NAPLAN, HAST, and Selective Test aspirants. 
So, what are you waiting for? 
Go ahead and explore our website to learn more about our practice test subscriptions and tutorials.